When someone asks you how you're doing, most of us answer with a simple "I'm fine."
Perhaps that's because we can't honestly say, "I'm great! Never better- full of energy, passion, and purpose!"
Not that we don't want to feel that way, we just don't.
As women, we often worry more about other people than we do ourselves, which leaves us feeling frazzled, fatigued, and wanting.
We all know we need to take care of ourselves, but somehow work, errands, the laundry take precedence. Instead of owning that we've put ourselves last on our list, we agree with that small but persistent voice in our heads reminding us just of how miserably we're failing.
It's hard to create change when you feel empty and defeated. 

Intellectually,  we understand that self-care is not selfish; it's self-preservation.  If we want to continue giving the best of ourselves to those we love, we also know we need to save a little  more love for ourselves.

The problem is we never really learned how. 
"You are imperfect, you are wired for struggle, but you are worthy of love and belonging."
— Brené Brown
It's not like you don't want to take care of yourself- it's just hard!
You try meditating but it's just too hard to sit still.


You try to eat healthy, but it's expensive and time-consuming.


You want to exercise but every time you get into a rhythm, something always comes up.


You crave more from life but you don't know what's missing and feel guilty for feeling that way.
"Self-care is giving the world the best of you, instead of what's left of you."
                                                                                                                              — Katie Reed
What if there was another way?
What if there was a way to work with your body and mind to flip the clarity and relaxation switch?
What if there was a way to soothe yourself in challenging moments other than medicating with food, social media, and Netflix.
What if there was a scientifically proven practice to interrupt your body's stress response to help you regain your sense of calm, focus, and joy?
The good news is there is! And it's something you do every moment of every day:  It's breathing!
"Breathe in deeply to bring your mind home to your body. "
                                                                                  — Thich Nhat Hanh
When our minds are stretched across 20 conversations, 10 apps, our worries, to do lists, and too little time – it's like having a million tabs open and no way to organize and focus.
Breathing is a great way to hit the reset button for your mental state.
That's because simple breathing techniques can help balance the hemispheres of your brain, soothe the nervous system and clear brain fog.
Breathing is a simple yet powerful tool for transformation!
The physiological effects of breathing
Slow deep breathing in which the diaphragm contracts on the inhale and relaxes on the exhale, stimulates the vagus nerve and activates the relaxation response of the parasympathetic (rest and digest) nervous system.
Stretching from the brain stem down to the colon, connecting to the middle ear, vocal cords, heart, lungs, and intestines, the vagus nerve plays many roles, affecting our emotional states, heart rate, inflammation levels, blood pressure, and digestion.
It interacts with our autonomic nervous system (or ANS—a part of the nervous system that has three branches responsible for unconscious processes, such as digestion and breathing).
In particular, it's an advocate for the parasympathetic nervous system—the branch of the ANS that stimulates the body to 'rest and digest' and 'tend and befriend.' 
The vagus nerve thus has a profound impact on our sense of safety and connection.
The benefits of diaphragmatic breathing and improved vagal tone have been researched extensively and the results are very impressive.  It has been shown to reduce blood pressure, help patients with panic disorder, anxiety and depression. It is also very beneficial for asthma, COPD, fibromyalgia and irritable bowel.
It also maintains health by promoting relaxation, restoring energy, and resetting the body's self regulatory or homeostatic reflexes.
"The vagus nerve can sometimes become damaged or dysfunctional, usually due to age
or chronic stress.  As a result, stressful events may take more of a toll on you,
and you may experience symptoms of depression or anxiety. "
                                                                                                                                    — Elizabeth Frederick
Join Tina Sprinkle, health and functional nutrition coach, for an intimate three-day MIND BODY BREATH retreat to help you learn simple yet powerful movement and breathing techniques for greater clarity, calm, happiness, and health.
The retreat takes place Friday, October 20 through Sunday, October 22, 2023, at the incomparably beautiful and peaceful Timber Creek Retreat House.
Located just an hours drive south of Kansas City, Timber Creek Retreat House is set on 80 wooded acres, featuring luxurious accommodations, healthy, gourmet cuisine, meditation, massage, and more!
Immerse yourself in nature, embrace calm, and leave with mindfulness practices to change your mind and body from the inside out.
All you have to do is say YES.
""It is not the load that breaks you down. It's the way you carry it."
                                                                                                            — Lena Horne
Mindful Movement
Restore your mind and body through daily yoga and mindful movement exercises to inspire and calm the senses.
Coming home to your body through guided movement and awareness is a powerful and healing act of self-love.
Adding breathwork and meditation to movement is a synergistic practice that is accessible, effective, and highly enjoyable!
Taking this time to move inward to reconnect your head and heart, will strengthen your movement practice or help you begin one.
Meditation
Stillness is a practice we cultivate to feel fully present and alive. In this retreat, you'll have ample opportunity to drop down and drop inward with three-daily meditation practice sessions.
You'll be amazed how quickly you'll love this practice and the peace and comfort it brings to you.
Tom Jacobs. the owner of Timber Creek, is an excellent meditation teacher, skillfully weaving humor, storytelling, and music to uplift and inspire your practice on retreat and beyond.
Guided Breathwork
A new way is being is as close as your next breath!
Return home celebrating a new sense of calm and well-being from learning a few simple yet powerful breathing techniques. 
Breathing helps  center and ground us.
Breathing helps turn down the noise and chaos for greater clarity and choice.
Breathing strengthens our immune system. supports our gut health, and boosts our mood and energy.
Best of all, it's FREE! 
Reflection & Renewal
Keeping a journal is a decisive practice that allows us to create a safe place to record and express our feelings, emotions, and deeply held desires.
If this is something you'd like to explore, Tina will provide guided journal prompts to compliment the breathwork we are doing on this retreat.
Keeping a journal can help access the music and voice of your true emotion.
For some, a journal is considered a best friend.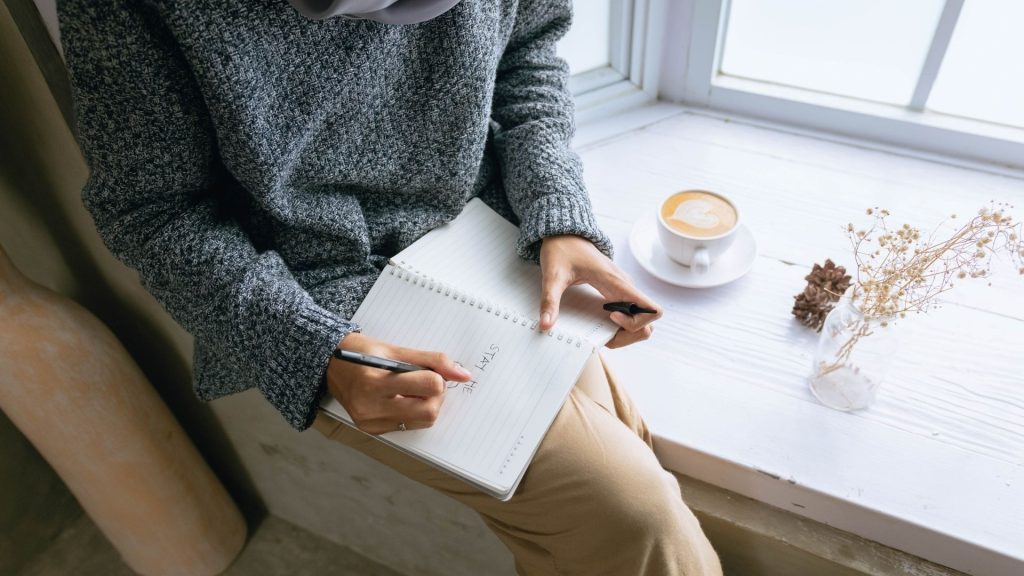 "You are the sky.  Everything else is just weather."
                                                                   — Pema Chodron
Say YES to REST! Let yourself sink into the luxurious comfort and care of Timber Creek Retreat House. 
Surrounded by eighty acres of wooded trails and wildlife, Timber Creek is a refuge from life's daily stresses with no detail of your comfort overlooked.
Take a nap in your king-sized bed, slip into a good book by a cozy fire, treat yourself to a massage or a lazy walk in the trees, or enjoy the serenity of the beautiful meditation room.
Timber Creek was conceived and created with one goal in mind: your comfort and well-being.
Busyness is an addiction that robs us of our wholeness. Taking time to rest, reflect, and retreat is a statement of our own self-worth and value.
Make time for healing.
Make time for presence.
Make time for sustenance, friendship, solitude, and silence
Open up and make time for your light to shine. It's greatly needed in this world.
"Almost everything will work again if you unplug it for a few minutes. Including you."
                                                                                                                                     — Anne Lamott
Got Questions? Let's talk!
Please email or text Tina for answers!
Email: tina@tinasprinkle.com
Text: 913 963 8546
* Timber Creek rooms are limited. Most are private rooms but you're welcome to share with a friend if you're open to also sharing a bed. Just select the semi-private option @ checkout.