Maybe it's because I've been in the fitness industry for 40 years, or maybe because I've been on the planet over sixty, but I'm not keen on New Year's Resolutions. Wanting to be a better partner, parent, co-worker, or steward of world peace is admirable, but why wait until January 1st to begin?
When I think about my own transformative beginnings, not a one sprang from resolution, new year's or otherwise. If that sounds tragic, it's not. My beginnings usually came in the form of divorce, job loss, death, and illness. They were difficult, messy, and painful. My reactions, denial, resistance, or feeling victimized made no difference. Spirit has taught me the only way to transform an ending into a beginning is a one-day endeavor called "allowing."
At 10:32 am on Wednesday, May 17th, 2017, one of those opportunities literally dropped from the sky.
Our neighbor's 120 foot oak tree chose that precise moment to come crashing down on our home.
I was in the kitchen, in the center of our little house, when I felt something resembling a train wreck.
I ran outside to find my dog Jack staring back in alarm. It was a bright, sunny, windless morning so we were both confused.
"It must have been a transformer," I explain to Jack, who's already forgotten it.
When I went back inside, I noticed the front of the house was weirdly dark. I went to the front door and opened it. A swarm of neighbors rushed towards me.
"Are you okay? Is anyone hurt?" They all said at once.
I just stared at them. "Yeah, I'm okay. Why? Did you hear it, too?"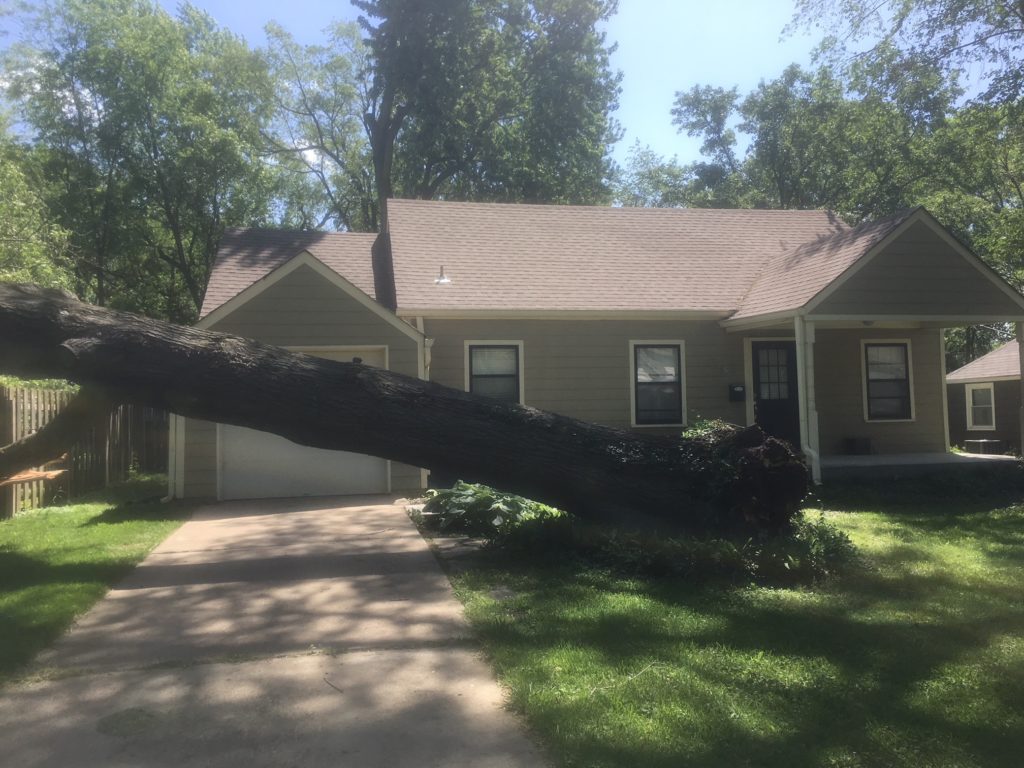 One of them waved uncomfortably for me to turn around. "Uh, that," she said.
Somehow, I'd missed the air thick with dust, the bedroom door blown off its hinges, the mangled metal air vent, and the gaping skylight created by the limb now piercing the roof.
---
For context: 2017 was a shit year for Herb and me. He got very sick, very fast with mysterious and scary illness. This necessitated moving to a hotel for three months to have our home remediated for mold. And this day, after celebrating just three days back home, our bedroom, the last oasis, was destroyed.
I choked and coughed, stomped my feet and pumped my fists, "Okay God! I've had it with you! It's God (3) and Tina Zip! That's not fair! That's not okay! What the hell is WRONG with you?"
The next few days were surreal. In shock, I could only manage the most necessary tasks: deal with the insurance company, go to the grocery, get Herb's medications.
But by Friday I'd come out of the ether in an extremely hateful mood. Angry and indignant, I looked for someone, anyone, to knock the chip off my shoulder just so I'd have the excuse to clock them. I cussed and swore at stupid drivers on the road. I glared at strangers in the grocery store. I flipped off a bus driver and honked at an old person. I was rude to friends who sought to console me.
As it turns out the tree had root rot. You'd never known it took look at it- tall, regal, strong, full with leaves. But all it took was a strong gust of wind on a sunny day in May to send it toppling, and me along with it.
It took me a while to upright myself and longer still to regain faith in my roots, but through a circuitous route that took me to a jungle cabin in Belize, I stopped finally stopped shouting long enough to listen.
I made some hard decisions in that cabin, decisions that were unwelcome but needed which lead to larger transitions built solely on faith.
"Allow," Spirit coaxed, "then, act."
Now, nearly three years later, my life feels like an open door, beckoning me to a delightfully unknown future.
As we look forward to a promising 2021, I sincerely hope a tree doesn't fall on your house. But, if it does, be sure to look for the sunlight streaming in through the ruins.
---