As the train pulled into the Hamilton, New Jersey, I suddenly felt ill. I looked at Herb, stricken.
"I think I'm gonna throw up!" I moaned, "I'm scared!"
Waiting to meet us at the station were my three half-siblings, Darlene, Lorie, and Tony. We'd discovered each other via ancestry.com
"Hi Tina, my name is Darlene de la Cruz," the message titled 'Cousins," read. "I've been investigating my ancestry and your name came up as a close match. I would love to correspond if you are open to it. I live in Bordentown New Jersey. Be well. Darlene."
With help from an adoption researcher, Darlene and I learned we were half-sisters. Our father, Manuel was married to her mother, Delores. Together they had three children, Darlene, Tony, and Lorie. Elated to know more of my birth history, we planned a visit later that Fall.
"If it doesn't work out, get on a train and come to Long Island," warned my friend Gloria. "You don't know jack about these people. For all you know they're grifters, creeps!"
"Hooligans!" I laughed. "Don't worry Glo, I promise, I'll be fine."
"If they don't get who you are- if they treat you bad, cut your trip short and come see me sooner!" I also planned to see Gloria on this trip.
My sons also advised caution. I understood their concerns but wasn't worried about the visit, until now. Now, I just felt nauseated.
"You're just excited," Herb reassured me. "Try breathing."
We stepped onto the train platform. I recognized Darlene from the bright shock of purple in her short hair. Lorie, my childhood lookalike, gaped in wide-eyed amazement. Brother Tony, sent to watch the other exit doors, walked up with a shy smile, open arms, offering bear hugs.
We stood there a few moments, smiling at each other, stunned by our surreal reunion. Bags flung into the trunk, we piled in the car for the short drive to Bordentown.
Proud of their hometown, we heard how Joseph Bonaparte, former King of Naples and Spain and brother to Napoleon I of France, established a residence in Bordentown. He entertained famous guests like Henry Clay, Daniel Webster and the future 6th U.S. President, John Quincy Adams. History and home are important parts of our family fabric.
We drove to Tony's house where we met more friends and extended family. We sat in the back yard in a circle of lawn chairs, making small talk.
Suddenly Lorie asked, "Is there anything you'd like to know about our Father?"
"No," I smiled, "I think I'll just take all this in for a moment."
There was a lot to take in.
Later, at the jazz brunch arranged in our honor, we met Tony's wife, Melanie, Darlene's wife, Sandy, Lorie's children Ashley and Josh, assorted cousins and extended family which included my half-sibling's half-siblings! Walt, a retired Camden, New Jersey cop, and Cheryl, who lives in Maryland, both drove in to join us. Lorie and her daughter Ashley came from Atlanta, and son Josh, in the military, traveled from his station in Hawaii.
"This really is a family reunion," I laughed, humbled by the effort everyone made to attend.
Rosemary Schoelllkopf (aka Roe), Lorie's plucky childhood friend also came. The next evening, after dinner and a few drinks at the local pub she warned me about writing anything unflattering about the De la Cruz family. I laughed it off, but she was serious. The message was clear: don't mess with her people.
"How many nights do you want me to book the room?" Herb asked when we were planning our visit to Bordentown.
"Better make it one," I replied, but when Darlene asked how long we could stay, I immediately replied, "two nights."
Our short visit was filled with laughter, stories, food, football, and an impromptu trip to the Jersey shore.
I burst with pride when Darlene introduced me to her spin class, "This is my sister Tina who is visiting us from St Louis, Missouri!"
The class was full because she'd been talking about me for weeks. I met more cousins who immediately asked, "When are you coming back?"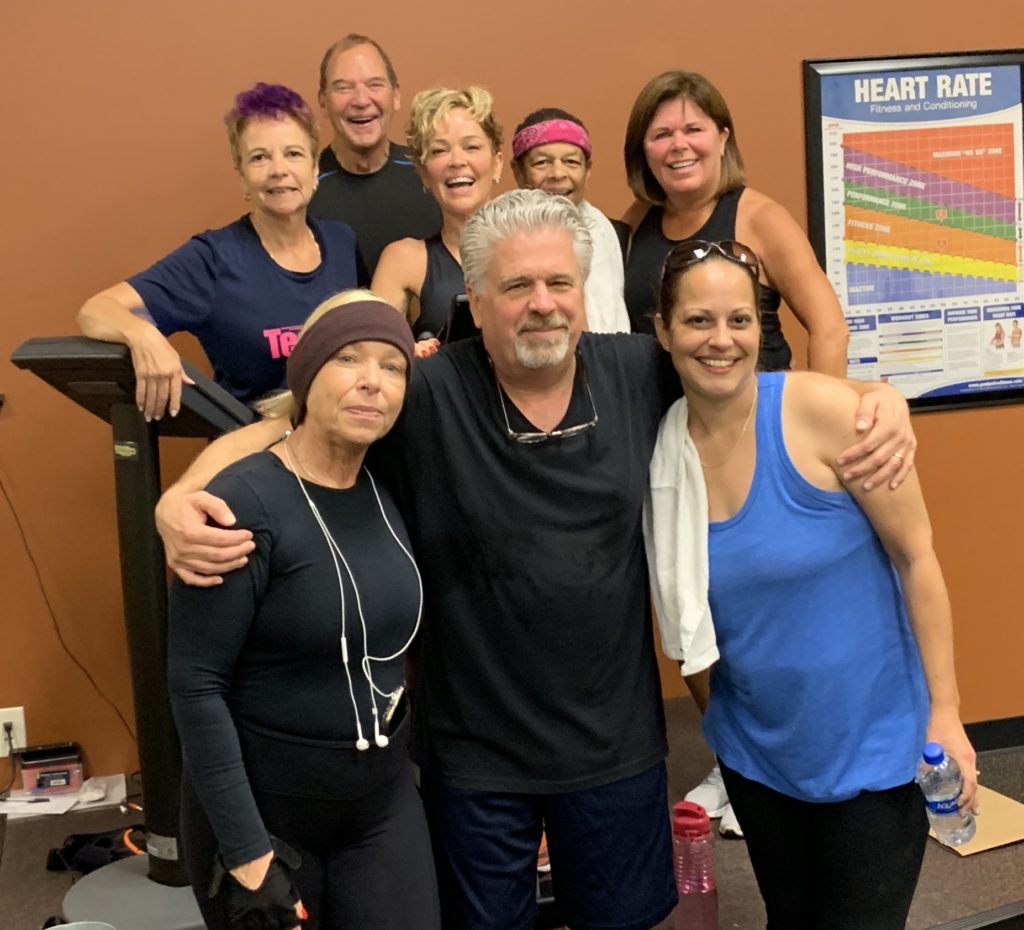 Darlene and her wife Sandy have been together for over forty years. That's not easy, especially when you're a bi-racial, lesbian couple. Former educators, they now fill their days teaching and training at their health club. Sandy is spirited, funny and quick, the perfect balance to Darlene's calm, gentle approach to life.
Lorie is the most like me; animated, outgoing and boisterous. During the Falcon-Eagles game, I watched amazed as she called every single play and player by name. Ashley, Roe, Darlene, and Sandy were all equally passionate and game savvy. I'd never seen women who loved and knew football like this group! I wondered aloud if this was a Jersey thing or an East Coast thing because it definitely was a thing.
I observed brother Tony quietly absorb every conversation, only occasionally choosing to comment. He is thoughtful and gentle and reminds both Herb and me of our son Cary.
In quieter moments, we talked about our careers, our children, our relationships and our struggles. We also talked about our Father. He'd divorced their mother when they were very young before they had a chance to know him. Each had a story about meeting him later in life, but none of those stories was very happy.
Our Father is Venezuelan and has eleven children. Darlene, Tony, and Lorie are from his first marriage; five more are from his second marriage. At least three more are like me, born out of wedlock. Let's just say, our Father got around.
Each told a story of disappointment. Lorie traveled to Venezuela in her early twenties to discover her father had not told his second family about his first family.
"I'm sorry but that's kind of F'd up," I said when she told me.  "Did he know you were coming?"
"YES, Tina! He did!" Lorie said, shaking her head.
Tony, also went to Venezuela to meet our father when he was in his early twenties. He stayed longer hoping to connect on a deeper level, but after two months he returned home disappointed as well.
"I'm grateful that he gave me life," Tony said on our drive to the Jersey shore, "but I don't think he's got the capacity to be fully present."
"I agree," said Darlene. Always the optimist, Darlene had a similar experience but didn't share the details.
"That's just so weird isn't it?" I said. "Because the one thing we all have in common is him. And look at our hearts! They're huge! We're here loving each other and he's missing out!"
Darlene said softly, "that's true Tina." Tony nodded quietly.
That night I wrote in my journal,
"Meeting my siblings is mind-blowing. We have an easy kinship and deep recognition I wasn't expecting.  All of the angst, suffering, and displacement I've felt surrounding my adoption is dissipating. It's like being able to take a full breath for the first time." 
When Darlene and I confirmed we had the same birth father, I emailed him a picture along with a short introduction.  I left it up to him to respond if he chose to.  This was during a time of political and economic stress when communication in Venezuela was very difficult, so I'm not sure he ever got the email.  So far, he has not responded.
My birth father is now eighty-four years old and recently moved from Venezuela to California to be near one of his daughters. He lives there with his second wife who has dementia. I don't feel the need to send him a second email.
As my biological father, Manuel Antonio De la Cruz responsible for my birth, but my adopted Father, Ehret Oscar Ramey, is responsible for my life.
My parents always told us we were lucky because we were 'chosen.' I never accepted that because I secretly believed I was damaged. Why I was given away? Why I was unwanted? I felt immense shame for being born.
Meeting my birth family has helped heal that wound. My siblings are loving, resilient, loyal, and optimistic. We love animals, being in nature, big hugs and laughter. We tell the truth, have faith in one another and God. We try to be kind and generous. We love to love others. This is my family; this is me.
It took me sixty years to understand that I was adopted, not abandoned. I was loved by parents who did choose us; parents who raised three amazing humans.
I feel every adoptee is entitled to know their birth story. In the state of Missouri that was not legal until 2018. Perhaps this was to protect birth and adopted parents, but the child is the one who pays the price. When you deny the child her story, she's left wondering, longing to understand.
I still don't know the details of my adoption, but finding my siblings has helped me understand more about my history.  This is more than an answered prayer; this is a miracle and a new beginning.