As some of you know, I recently became a Grandmother. George is two months and twenty days today, but who's counting.
Becoming a Gigi has transformed me in ways I never expected. My heart, now three sizes too big for my body, alternately celebrates his birth and aches for the challenges I know he must face in this life.

We can't protect our children from this world, but we can make sure they know how much they are loved.
My grandmothers were my grounding compass. They were strong, faithful, and humble. Like other women of their generation, they were the grounding center of their families, working like Trojans, yet rarely acknowledged for it.
Both were widowed and spent much of their lives alone. Clara Mae Sturdivant, my maternal grandmother lived in Nashville, so I don't have as many memories of her.
What I do recall is her kindness, home cooking, and expert needlework. I loved her mustache, ornate pearl spectacles, and playing with her underarm flab.
A devout Southern Baptist, Clara recited scripture like a preacher. She was pious yet I never judged or loved conditionally. 
The love she showered on me felt different than my Mother's love. I now understand that mothers don't have the same luxuries that Grandmothers do.
Since she lived nearby, I had more time with my paternal grandmother. Rose Nell Ramey was the oldest of seven siblings. Her mother other died when she was just thirteen years old.
Being the oldest, her father looked to Rose Nell to run the household, care for her younger siblings, and oversee the daily chores on their rural Illinois farm.
It was a huge responsibility for someone so young, but if she felt regret or resentment, she never voiced it.
That was just the way it was; you did what you had to do even if it meant dropping out of school in the sixth grade. She worked as a lunch lady at Boone Elementary School after my Grandfather died.
Grandma Ramey tried to teach me to take a humble approach to life. "Live simply," she told me, "Be kind, take life as it comes, and remember it's not personal."
A compulsive planner, this lesson was lost on me. By carefully weighing the risk/reward of every choice and chance encounter, I'd be able to avoid the mistakes of my elders. I had an agenda, and it certainly didn't include becoming a cafeteria lady.
On the lucky weekends I got to sleep over, Grandma taught me to make homemade jam from the cherry tree in her backyard, sew, and study the Bible. I liked the way she read the Bible, casually, like it was the evening paper. When I asked questions, Grandma asked questions too, helping me find the answers for myself.
At night before we went to sleep, she'd listened patiently as I outlined my plans for my wonderful life.
"I'll take voice lessons and play Mary Magdalene in the Christmas pageant. I'll sing at weddings and funerals too, but only wedding songs because funeral songs are sad….
I'm going to marry Doug, (the preacher's son.) We'll have a boy and a girl and live in the basement of his parents house. After a year or two we'll move to Australia to do mission work because I want to learn to surf, scuba dive, and eat crab."
"That's nice," Grandma said as she rubbed my back.
"When my kids go to school, I'll have time to write a spy novel. They'll turn into a movie starring Mary Tyler Moore and the Man from Uncle. We'll have to move back to the United States, to California, where we'll live in a house with big redwoods in the backyard. Our kids will play in a huge tree house."
And when I told Rose I was moving to England soon to study English at Oxford, my Grandmother said simply, "I'll miss you."
She was there to witness my all plans go agonizing awry. When Doug the preacher's son dumped me to date Melodie Bash; Grandma made me a new dress to ease the sting.
When I failed my audition for the Bingham Junior High School talent show with my dazzling rendition of Barbara Streisand's "Don't Rain on My Parade," Grandma said, "Never stop singing Tina. If it pleases you, then it is pleasing."
And when I my short story was rejected Highlights Magazine, Grandma instructed me to go to the library and check out five new books. When I showed them  to her she said, "Good. Now read them. Immerse yourself in something besides yourself."
Unlike other adults, Grandma saw my circuitous route and disappointments for the folly it was. She neither judged nor falsely championed me. Instead, she offered support for the person and not the plan.
When I was leaving for college, I was overcome with a sudden, intense bout of separation anxiety.
"I don't want to go Grandma," I said, hugging her. "I'm scared and I'm so embarrassed."
"Embarrassed?" she said softly in my ear, "Don't be. Life is crooked and unpredictable and painful. You're just finding that out."
I looked into her eyes, surprised.
"But it's also brilliant and beautiful and utterly surprising. I hope you'll avoid the awful mistake of punishing or rewarding yourself for either. Worry takes all the fun out of it."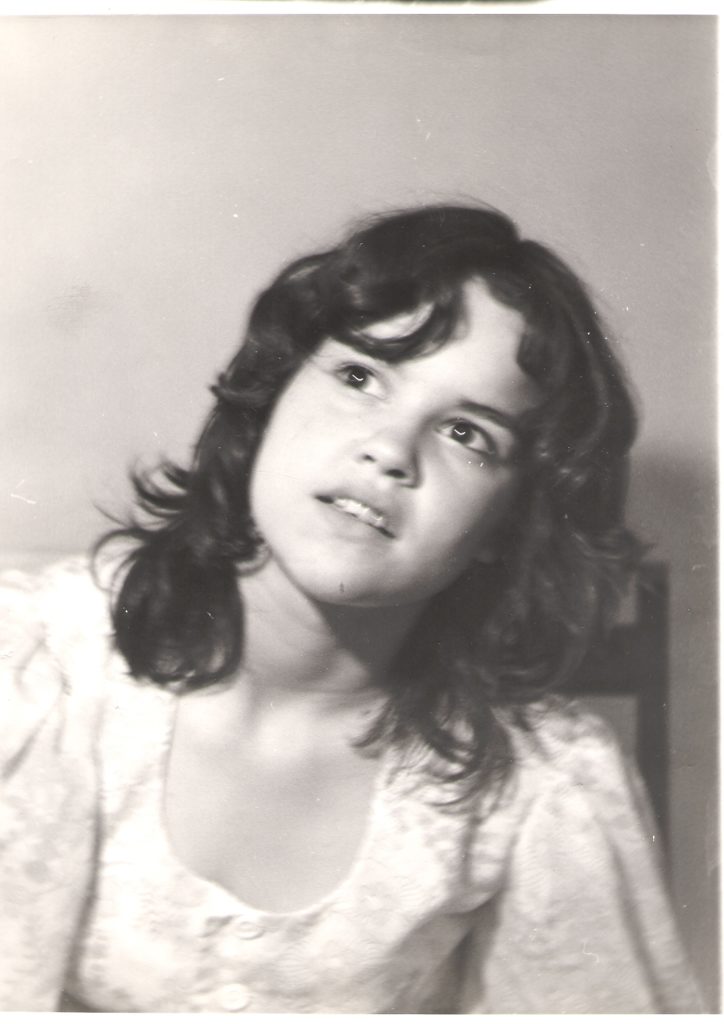 Later that year, she suffered a stroke. I went to visit her in the nursing home. She was sleeping, jaw slack, lips moving, breath labored. 
I stood at her bed, crying because I couldn't stand to see her this way.
"Why are you crying dear?" She garbled, eyes closed. That startled me. How did she even know I was there?
"I'm just sad Grandma,' reaching for her hand. "I'm just sad."
"Well don't be sad," she sighed, "I'm not sad. I'm here and you're here and we're doing okay, aren't we?"
"Yes, Grandma, we are," tears escaping.
"Well then. That's enough. That's enough, now. Let's not be sad."
Grandma Rose never recovered fully from her stroke but I never saw her feel sorry for herself. She met life where it led her, even when it led her to difficult places. She wasn't one to waste time wondering why or why me?
When she died I was devastated. Oh how I wanted to bury my head into her one more time to tell her how much I loved her.
I heard her say. "Tina, why are you crying, dear? After all, I'm the one who died."
I am grateful for the time I had with these two amazing women. Their legacy is one of kindness, faith, quiet strength, and utter resilience.
It's my prayer and intention to do the same for George.    I am a Grandmother.