I noticed Janet and Micheal immediately as they walked into the restaurant in Troncones Beach, Mexico. 
I was hosting a retreat, they were on vacation, returning to a favorite spot for dinner. I thought they looked like an interesting couple so I walked up to their table and introduced myself.
"Hi, I'm Tina. You two look like a fun couple and I wanted to get to meet you."
A bit taken back, they graciously offered their names."Hi Tina, I'm Janet and this is my husband, Michael." 
I learned they were from Canada and had been coming to Troncones for the past seven years. 
The restaurant at Present Moment Retreat Center was one of the best in the area and their personal favorite. 
I told them about my retreat and how much I was enjoying this area of Mexico. I returned to my table to tell Herb how cute I thought they were.
A few minutes later I traipsed back over and asked to take their picture. They were just so interesting looking…
They acquiesced and I took a beautiful picture of the two of them at their favorite table.
Later, Janet would describe it a little differently, "This woman comes walking up to introduce herself and of course Michael is hard of hearing, so after you left he just said, 'What was that all about?' 
Then you come back and ask to take our picture! It was so random, and if you look at the picture, you can see our food sitting there in the background!"
(I'd interrupted their dinner of course.)
Michael, who wore a stylish straw hat and large black glasses, possessed a benevolent face that looked mildly, chronically amused. He was thin and a bit frail.
Janet, who also wore glasses, was striking in her resort wear and matching headband. I learned they were retired, educators who had first met at a conference.
Janet, who was coming out of an abusive relationship, sensed Michael's kindness and thought he was the kind of man she'd wanted all along.  He felt the connection, too, and asked her out.  They were married for fifty-five years. 
I learned later that Michael had not been feeling well. 
"When I told Michael I was concerned about his traveling to Mexico in his condition," Janet explained, " he said, 'Well I can die in Mexico as easily as at home,' and so we came."
I took Janet's email address and promised to send the pictures. Janet later told me she used those pictures at Michael's funeral.  He passed away last Summer.
When Herb and I arrived in Troncones last Saturday, sitting at the very spot where we met them,  we were thinking of Janet and Michael.
I sent Janet a text of the view, saying we were thinking of her. I received a text back, thanking me and saying she was in Troncones herself.
The cell service in this area is spotty at best and I didn't get the message until Herb and I went down for lunch on Sunday.
Just as I was showing Herb the text, Janet walked into the restaurant.
I saw her and immediately shrieked, "JANET!"
Her face was confused and then amazed as I walked over to her to give her a big hug! 

It was a wonderful chance reunion of friends who barely know one another but feel close nonetheless. In this instance, it was nothing short of a miracle because the timing was just right, good medicine. 
We laughed at our text exchange- she not connecting the dots to know we were here, and our just discovering her reply as she walked in. I immediately asked her to join us for lunch.
"I just came here, to our favorite place, to have lunch alone," Janet said, "to feel what that feels like."
I replied, "Well you still can, if you want to," not wanting to intrude on her time alone.
"Oh no! I'd love to!" she replied.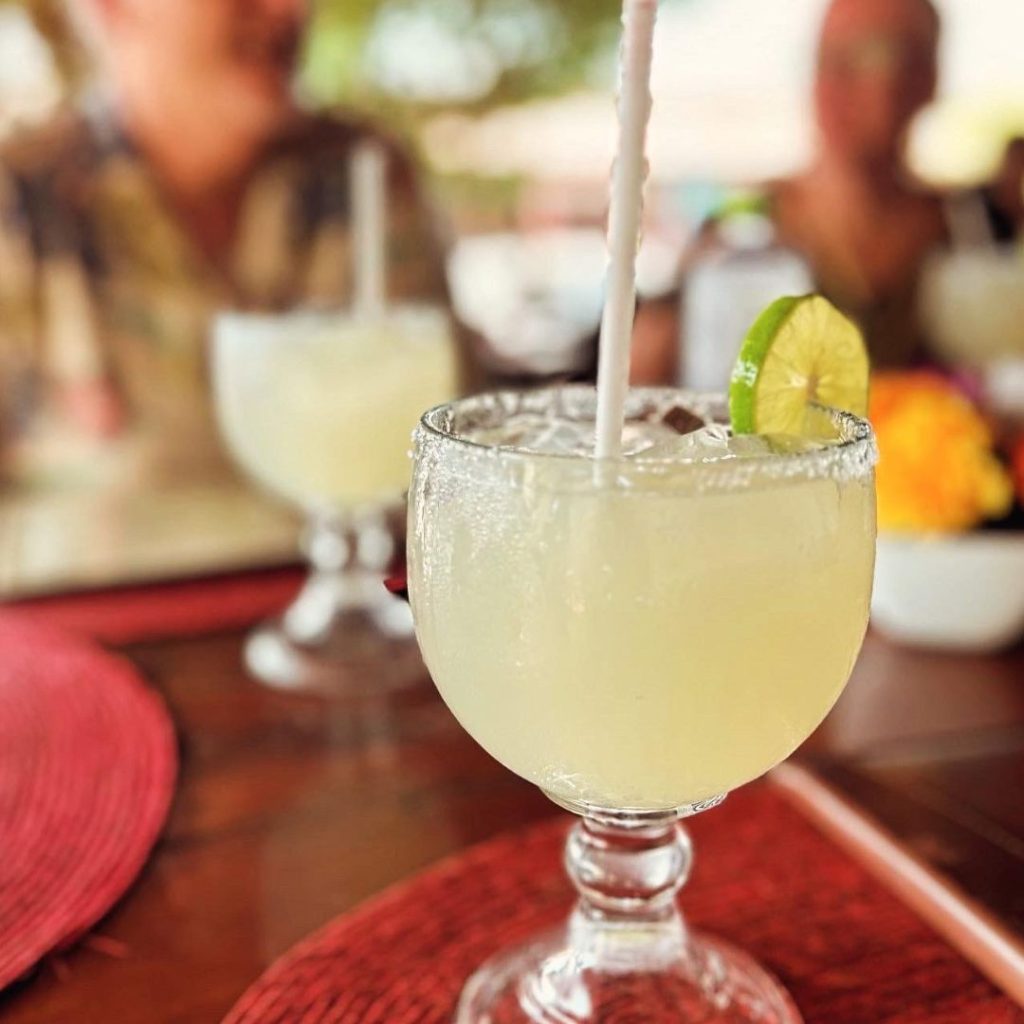 We sat down to lunch, amazed at the synchronicity of our reunion. It felt like it was meant to be because it was. 
And for the rest of the week the three of us and Ron White , our traveling companion, were inseparable. 
We got to know each other around the pool, margaritas and molcajete, martinis and sunsets, and one memorable evening at our favorite restaurant, Tentaciones.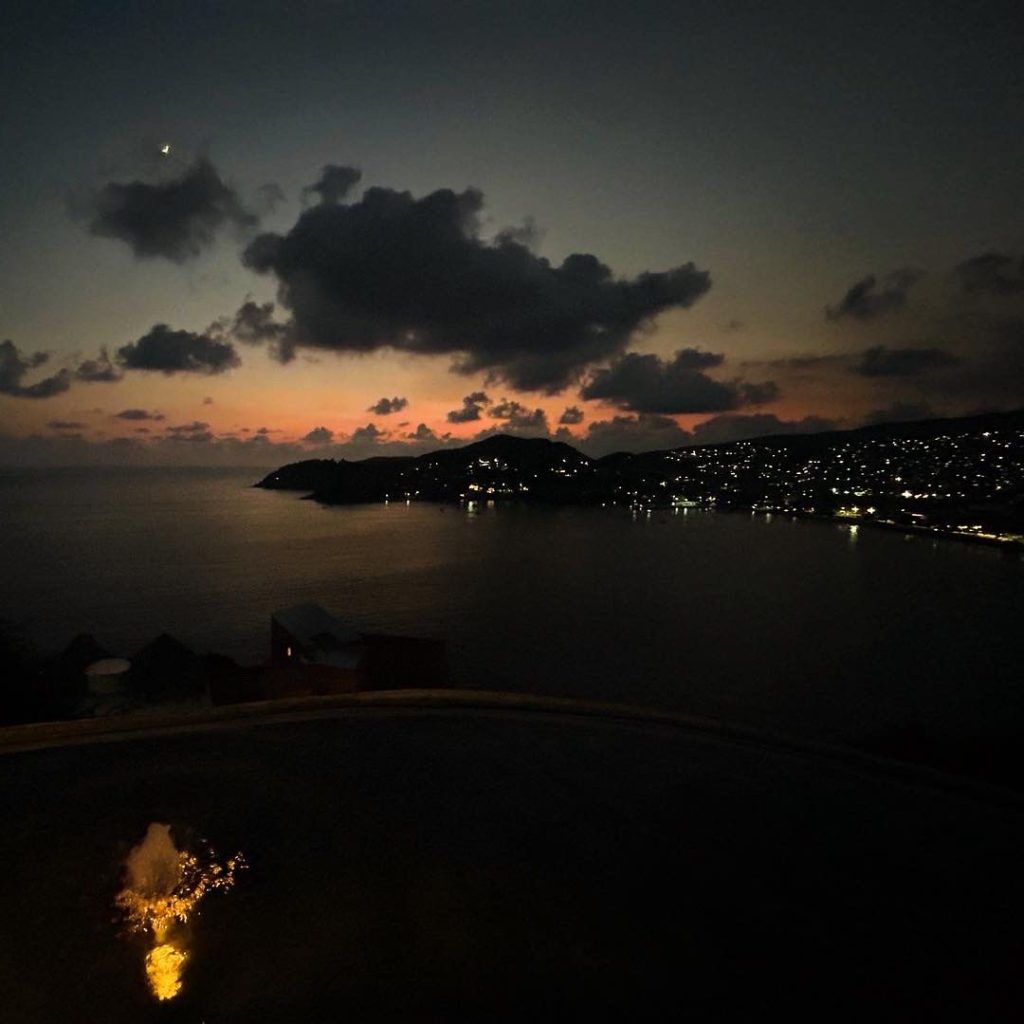 Perched high above Playa Ropa, we shared the sunset, a lovely meal, and a magnificent celebration of new friendships and old souls.
"I want to make a toast to you three. And I want to do it now before I get too teary-eyed," said Janet.
 "Being with you this week has been a miracle because it's helped me realize that I can have fun again, that I can live again. 
I know now I have a whole new chapter in front of me because I am having fun and enjoying life again. 
This week has been a miracle; a rebirth, and I just can't thank you enough."
Touched by her words we were all teary-eyed. 
"I'm just so glad I was that rude woman who interrupted your dinner last March," I said.  
"There had to be a reason I was so insistent on meeting you and Micheal and now we know why. Because of this! It truly is a miracle- it was meant to be!" 
And we raise our glasses to toast to our good luck.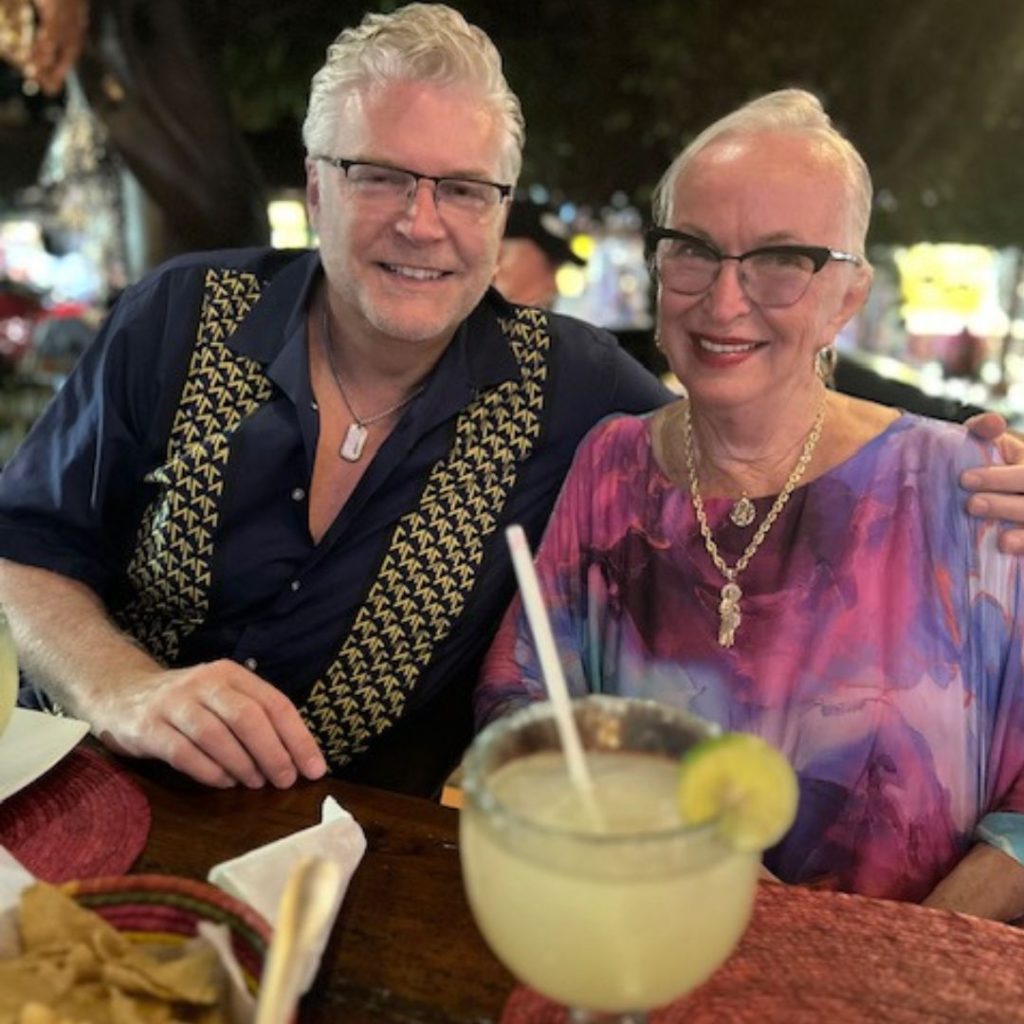 Ron said later that our foursome felt so easy that Janet never felt like a new friend, but someone he'd known all his life.
On our last night together we all hugged and promised to meet again in April in Victoria, BC where Janet lives. We can't wait to meet her dog Chipotle as well as her human friends and family.
The next day I received a text from Janet. 
"So magical. We belong together." 
I replied, "And we are together- no matter the physical distance."
To borrow (generously) from a song by Barbra Streisand,
"There are moments you remember all your life.
There are moments you wait for and dream of all your life.
This is one of those moments …"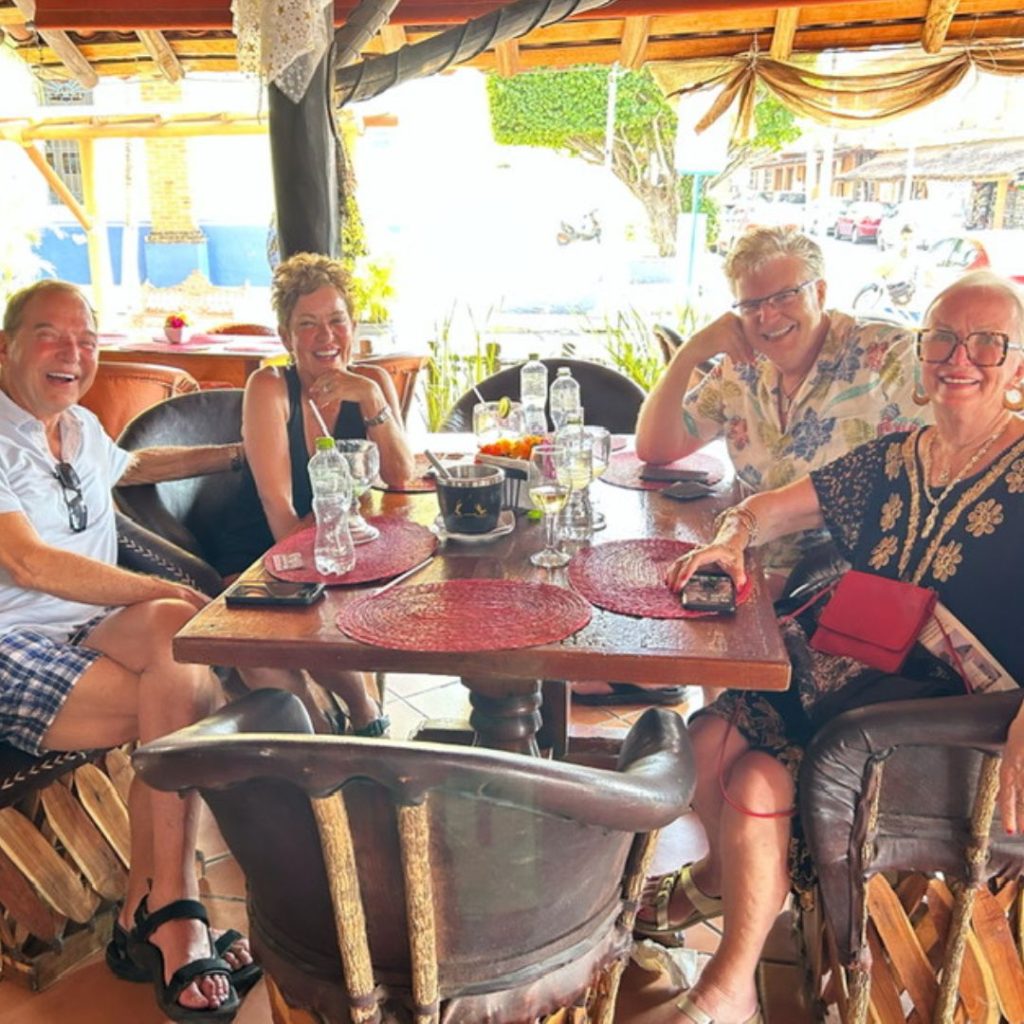 There is much I have not told you about Janet, about her life's work and her passion to help the most vulnerable.
She has developed a revolutionary program that is successfully doing so in Canada and I am committed to helping her expand that help to the United States.
In a phone call to one of her best friends and co-workers back home in Canada, Janet repeated something I'd said to her upon learning of her life's work.
"She said that I was a 'BADASS.' I'm not sure, but I think this is a U.S. term for a  compliment."
It was and it is.
I can't wait to share more about Janet and her mission with you because she has also given me a new lease on life. It's not every day you meet a woman in such possession of her vision, path, and her process to change the world.
She is my mentor and my muse- an example of growing older agelessly, committed to improving and transforming the lives of others in the most real and tangible way.
But that is for the next blog. I can't wait for you to read it. 
Stay tuned, because this is BIG!