Blood sugar imbalance is an underlying cause in most chronic diseases, including diabetes, heart disease, kidney disease, cancer, Alzheimer's and more.  
This 4 (+) week Blood Sugar Balance program provides everything you need to eat, move, and sleep to keep your blood sugar in the sweet spot- The spot where you have sustained energy, focus, and moods. 
We'll take a deep dive into the sugar/insulin connection, the role of gut and mitochondrial health in weight gain (and loss), and practical ways to maximize the benefits of exercise and sleep to create your own metabolic sweet spot!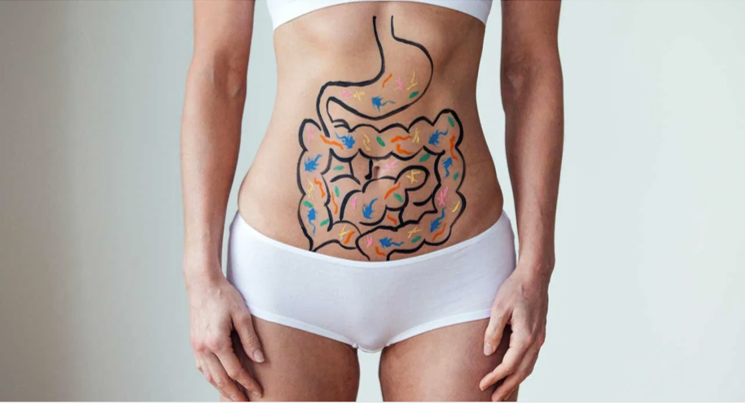 In functional nutrition we look past the presenting symptoms to understand the underlying cause of your fatigue, weight gain, sleeplessness, and cravings. 
Until we address the "non-negotiables"  (blood sugar, inflammation, oxidative stress, hormone imbalance), no lasting intervention will help.
The BSB+ program can help you take a closer look at "what's going on inside your body" to best support your health, overcome stubborn weight gain, and balance food, cravings, energy and mood.
When it comes to weight loss, it's important to trust your gut
Recent research suggests that the composition of the gut microbiome can predict an individual's likelihood of obesity.
New studies report that differences in our gut microbiome are also associated with our body's response to weight loss interventions.
When it comes to blood sugar and insulin balance it's crucial to trust—and support—your gut bacteria.
How Your Gut Health Affects Your Weight
Experts suspect that gut bacteria— specifically, a lack of diversity in the microbiome—could drive junk-food cravings, insulin resistance and more.
Since your gut bacteria line your intestines, they come into contact with the food you eat. This may affect what nutrients you absorb and how energy is stored in your body.
One study examined the gut bacteria in 77 pairs of twins, one of whom was obese and one of whom was not.
The study found that those who were obese had different gut bacteria than their non-obese twins. In particular, obesity was associated with lower gut bacteria diversity, meaning there were fewer types of bacteria in the gut.
Other studies have shown that if the gut bacteria from obese people are put into mice, the mice gain weight, suggesting gut bacteria could affect weight.
Other studies show the number and variety of bacteria in your gut may affect your weight by influencing how different foods are digested in your body.
Dietary fiber is digested by certain species of gut bacteria, which may aid weight loss.
Other gut bacteria digest certain antioxidants found in plants known as flavonoids, which may help prevent weight gain.
Our gut bacteria can also influence how dietary fats are absorbed in the intestines, which may also affect how fat is stored in the body.
the proof is your biochemistry
Most of us care about weight loss, but we need to back it up to our biochemistry.
Not surprisingly, our nutritional choices show up in our blood and not just on our hips.
When researchers collected blood samples collected before and after the weight loss intervention, they found changes in the levels of metabolic markers in the weight loss and no-weight-loss groups.
The weight loss group showed an increase in adiponectin levels. Fat tissue secretes the hormone adiponectin, and an increase in the levels of this protein is associated with weight loss.
The weight loss group also exhibited a decrease in the level of six proteins, which scientists have previously shown to be associated with inflammation, obesity, and other metabolic disorders.
Biochemistry precedes weight loss.
And weight loss is associated with healthy gut bacteria, reduced inflammation, and an improvement in metabolic and immune function.  
how does this program work?
DATES: 

Saturday, January 15 Kick-off @ 12 pm 
January 15-22 Prep Week
4 Weekly Program with weekly Coaching Calls on Tuesdays @ 7 pm

GOALS:  Balance blood sugar, improve gut health and insulin sensitivity, reduce inflammation, fatigue, and risk for metabolic disease.
METHOD:

Nutrition: (meal template, recipes, using our "macro mantra" at every meal: fat, fiber, and protein.
Gut Health Support: via targeted nutrition, supplementation, and lifestyle interventions.
Movement for your Mitochondria: Learning the best and most efficient forms of exercise for metabolic health.
Education: Weekly small group coaching calls on a variety of topics to support your progress.
Motivation: Daily texts to inspire, educate, and motivate you to keep your focus on your program participation and personal transformation.
Tracking and Progress Updates: All participants will track daily food, mood, and movement. There's an option for adding blood glucose monitoring with an at-home Contour One system or a Nutrisense CGM (Continuous Glucose Monitor).

COMMUNITY: Prepare to be amazed by the power of this community to support, inform, and support you. We are ALWAYS better when we work together towards our goals.
Sample Program Guide
and Week One Prep Booklet
Sample BSB Meal Plan
and Recipe Collection
two ways to play: enroll now!
This program includes:
Program materials and recipes
(5) Small group coaching calls
Daily texts and practical resources
Private Facebook group access.
15% off optional Gut and Blood Sugar Support Supplements via FullScript
Optional: Help with blood sugar monitoring if student chooses to add their own blood glucose monitoring system.
This program includes:
Program materials and recipes
(5) Small group coaching calls
(4) (30) minute private coaching calls with Tina
Daily texts and practical resources
Private Facebook group access.
15% off optional Gut and Blood Sugar Support Supplements via FullScript
Optional: Help with blood sugar monitoring if the student chooses to add their own blood glucose monitoring system.
oPTIONAL GLUCOSE MONITORING SYSTEMS FOR ADDITIONAL TRACKING
If you've been told or suspect you have insulin resistance, unstable blood glucose, or can't seem to budge the belly fat no matter what you've tried, you might want to add a glucose monitoring system to this program.
There are two ways to go and I can coach you through each process as I have used both.
The first is an at-home system employing a small lancet, testing strips, and glucose monitor.  I use the Contour One brand and it comes with a cylinder to load lancets in so you just click and stick which is not difficult or painful at all.  Together, we'll decide when to measure your blood sugar, logging the results to see trends and the impact of your food and drink choices.   Cost: between $70 -$100 
The second option is investing in a month or two using a CGM (continuous glucose monitor).  I use Nutrisense which supplies you with two sensors monthly to apply to the back on one arm.  It's not painful either, measuring the interstitial fluid, not blood in your body to sense blood sugar fluctuations in real time.  Cost: $250-$350 depending on program.
Please Note: There's no requirement to get either one of these systems to participate in this program.  They are entirely optional. 
Questions about this program or other coaching help?
I'm all ears! 
Email me at tinasprinkle.com or drop me a tet at 913 963 8546 today!