Belize, Part One.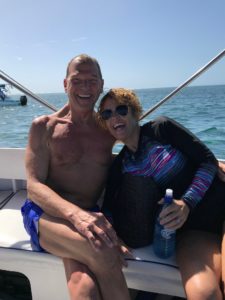 It's not often you get the chance to leave the country for an extended period, and frankly, it took me until I was forty-five to leave it at all, so the novelty of travel (all travel) is still a thrill for me.  This most recent trip to Belize was unique in that I would be experiencing three separate trips in one, three trips that like all great travel experiences, reunites you with parts of your self you may have misplaced, forgotten or simply not yet discovered.  This was the case with Belize.
When I told Herb I was planning a work retreat in Belize, I could see the wheels spinning behind his blue eyes. He likes to be with me and I could tell he was angling for a way to be in Belize as well.  I knew that, of course, and we made plans for the two of us to go down a bit early to play and prepare for my retreat.
In case you've missed this fact, Herb and I had one suck ass year last year.  Illness, homelessness, inopportune acts of nature and major surgery all took their toll not only on our health but our relationship.
We knew we'd make it, but it wasn't fun and it wasn't pretty and there were scars.  This trip and our trip to Greece over the holidays was to rest, heal and start anew.  And that's what we did.
One of the things I love about Herb is his generosity.  I don't understand "frugal" or "cheap" even though I've never had any money in my life before.  I always tell Herb how much I appreciate that he treats me to places I'd never have been able to go before, to which he replies, "I'm treating myself, and you're just here with me."  Which, of course, I love because it's so untrue- he loves treating me!
So, Belize Part One is all about a tony resort, being waited on all day, lounging by the pool and eating and drinking way too much.  It was also, to Herbs credit, a workday or two as Dr. Johnson (my retreat co-host) had come down a few days early to prep for our first international T School retreat.  That involved the two of us running around Ambergris Caye trying to get the last bit of our retreat details nailed down.
Lesson learned… NEVER rent a house, no matter how amazing with a shitty property manager.  It's unnecessary stress, the worst kind.
Our Retreaters began arriving the same day Herb left the island, February 14th, Valentine's Day. Herb was a trooper about going home as he knew #1, I would be working at this retreat, #2, we'd had a great visit together, and #3 I'd promised to come home.
Belize, Part Two.
This was our first retreat out of the country and as you can imagine, there was some anxiety about getting it all right to provide our 12 expectant participants the experience we wanted them to have.  The great news is we just happened to get the most amazing group of women ever!  They got along together, were laid back, fun and participatory.
For folks wary of women in groups, we proved that the stereotype unfounded.  We bonded over wine, tableside talks, exercise and open discussions about what we needed to do to shift in our lives forward with more balance, health, and joy.
It also helped that we had an amazing home, private pool, beach, and dock to do Inversion Therapy, Yoga Puncture, Mindful Movement or just kicking back.
At breakfast, we met to cover educational topics including brain health, hormone balance, skin health, the benefits of meditation, eating real food and being a part of a female tribe.
After that, folks were free to rent golf carts, explore the Caye, get a massage, facial, hang out by the pool, read, walk, sleep or learn Inversion Therapy (and what a spot to do it)!
Evenings we reconvened around the table for delicious and healthy meals lovingly prepared by Fanny and Siria, the two most amazing cooks ever!  Fresh fish, veggies, fruits, tortillas, and desserts left no one longing for more.
Some evenings we convened again, but often folks went off to their rooms to read, out to a local watering hole, or simply a starlit walk on the beach.
The dock next to ours was so low to the ocean that at night when you walked out on it, it truly looked like you were walking straight into the dark water.  It was scary and also thrilling.  One special night, Tricia Collins (friend and 1901 coach) and I held hands as we walked out that long pier.
With only the stars for light, our steps into the void became a metaphor for overcoming our fears- it was frightening, but in a good way.  It was an experience I'll hold in my memory for my lifetime and I am glad I was with Tricia to do it.
I guess what I am getting at is that in addition to learning together via planned discussions and workbooks, we also had time to learn other ways:  downtime, the wind, the ocean, and the quiet. There really was time for each of us to simply BE, and that was magical.
Side Splitting laughter from a decidedly WRONG game of Cards Against Humanity, freestyle dancing to shared tunes via Spotify, and morning workouts bound us together as a group and as a tribe.
When it was time to go home, it was bittersweet.  While folks knew it was time to go, it also felt wrong to have to leave so soon.  I think most of us felt like close friends by the end of that retreat (closer friends if we'd already known each other.)
We had participants from as far away as Atlanta and New Jersey and all offered support and feedback for future retreats. 
These women taught Dr. Johnson and me as much or more than we'd been prepared to teach them.
There is immense power when people come together for positive change and we all felt it.
Belize Part Three.
Dr. Johnson and I stayed after our peeps left to discuss the retreat before catching a cab to the airport. We talked until it was time for her to fly back home.  I would not be going with her, I was staying on for another adventure of my own.
A friend of mine and I'd been talking a few weeks in advance of my trip to Belize over a personal situation that I'd been dealing with – it was really the accumulation of many months of fatigue and mild depression from the stressful year Herb and I had experienced in 2017.  I was in a funk, couldn't get out of it and felt a little desperate because I am normally a happy person.  I was not happy; in fact, I was miserable, and it was time to address my issues.
My friend, Sabin, suggested I look up a woman who did retreats in Belize, a healer of sorts who had written a few books on the healing power of plants and the Rainforest.  When I looked this person up online, I discovered that she was offering a retreat, one that was offered only once a year in the jungles of Belize, the very day after my retreat finished in Belize.
I took this as a sign and registered the same day.  I had no idea what it would be like, what kind of people would be attending, or what, exactly, I was to learn. That was at once exciting and uneasy, but I was ready.
I spent my last day in Ambergris Caye, walking the beach walks, eating plantain chips and homemade guacamole, and sleeping.  I didn't realize how tired I was until I laid down on the sofa in my hotel room and quickly passed out.
The next morning I called Herb to tell him all was well and getting ready to board my plane to Belize City where I would meet my co-participants for the 2-hour ride through the jungle to our destination at Chaa Creek just outside the city of San Ignacio.
That van ride was not something I was looking forward to and as I flew over the azure water below, I had a moment of buyer's remorse, longing simply to stay in the sky.
I calmed myself by remembering what Herb had said, "Honey, if it's wackadoodle, you just get on a plane and come on home.  You don't have to stay."   I laughed because he was referencing another retreat that we'd both attended that was completely "wackadoodle" as in "scarycultlikeweirdos."  Let's just say it left a mark.
As it turns out my time in the jungle was neither "wackadoodle" or scary.  It was phenomenal. From the time I arrived at Chaa Creek, walking thru the darkness to our Jungle Camp, serenaded by a cacophony of birds, monkeys, and other unseen creatures, I felt I'd come home.
I'd asked for a private cabin if possible, (admittedly spooked by the possibility of a potluck roommate) and was relieved when that wish was granted.  When one of my campmates asked how I scored that, I replied, "I asked."  Little did I know at that moment how much I would learn alone in that cabin, writing, crying, listening, and laughing in the darkness, entertained by midnight concerts by enthusiastic Howler monkeys.
The first evening we had a dinner of rice, beans, corn tortillas and some overcooked vegetables prepared by Docimo, our camp director, who as it turned out, entrusted our care to his entire family.  He'd been working in that Jungle Camp for twenty-three years, so it was only natural that his family became part of the business, too.
They took excellent care of us and seemed very concerned our satisfaction, so much so that I, carb-averse freak that I am, ended up eating beans, rice, chips, and tortillas all week long.  One night when they served inedible red snapper (that they called Tilapia) I cut it up in little pieces and pushed it around my plate so as not to offend them, to the great entertainment of my table mates.
The workshop, on meditation, grounding and the healing property of plants turned out to be not only interesting but exactly what I needed.
I had the opportunity to be far away from home, in a land so beautiful and foreign, I could completely immerse myself in the teachings.  I made friendships I know will last a lifetime and discovered kindness beyond measure in our group.
Our teachers were strong, learned, caring and compassionate.  I was unprepared for the impact this experience would have on my life: grounding, clarity and time away helped me mourn the losses of 2017 and much further back.  Healing was needed and healing was provided.
The last day as we went around the room, each recapping our experience together I said, "I came here to reclaim my faith, somehow missing the fact that I came here on faith."  That kind of sums it up for me.  In the busyness and overstimulation of our life in these United States, it's easy to forget we already possess all we're seeking.  Like love, and value, and grace, and well, faith.
Beyond the noise, there is quiet, stillness and peace.  It's always there and always has been; we need only listen and trust.  That requires being still, and quiet and peaceful.  This is hard because nothing in our culture supports that.
Our rituals are gone, our connection to one another is on life support, and our sense of shared values is decimated daily by the news.  Our children are killing one another and the best protection we have to offer is more guns to arm the teachers?  No wonder it's hard to have faith these days.
But we must.  We must wake up each day and ask ourselves what it is we can do to make our world better.  That means taking action each day to be positive, be still, stay grounded and be a conduit for love.  If that sounds naive or Pollyanna, I don't care because we all have that choice to make.
Love or fear?
It really all comes down to that.  Sounds simple, and I guess it really is. Perhaps remembering that simplicity will help us heal.  It's time.